Nationally, China's effort over the last several decades to reduce maternal mortality rates by promoting hospital deliveries has been highly successful. From 1990 to 2011, maternal mortality rates declined an average of 5.7 percent per year, far greater than the average declines for low- and middle-income countries over the same period.
But maternal mortality rates have remained high in rural, disadvantaged and ethnically diverse parts of the country, particularly in western China, where hospital delivery rates continue to be low. "This suggests that a single approach to lowering maternal mortality might not be sufficient for a country as diverse as China," says Dr. Jessica Gipson, associate professor in the Fielding School's department of community health sciences. For nearly a decade, Dr. Gipson has joined with UCLA Fielding School of Public Health colleagues in an ongoing collaboration with colleagues in the Tibetan region of China to implement and study an alternative approach. The collaboration has produced important insights into barriers faced by women giving birth in rural and lower-income communities, and ways in which complex reproductive health problems in such communities can be effectively addressed.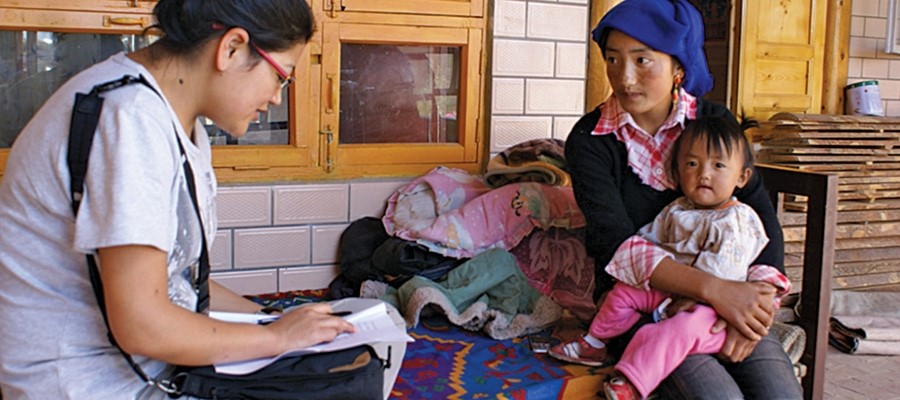 Dr. Gipson and other FSPH researchers — including Drs. Anne Pebley, Alina Dorian, Corrina Moucheraud and May Wang from the school's faculty, along with recent doctoral graduate Dr. Tabashir Nobari — have joined with the Qinghai University Tibetan Medical College (QUTMC), led by Dean Lhusham Gyal and Dr. Kunchok Gyaltsen, in evaluating the innovative reproductive health programs QUTMC has implemented in recent years. The longtime partnership also involves teaching: Dr. Gyaltsen, a Tibetan medical doctor and Buddhist monk, completed his doctorate at FSPH and has since sent 10 Tibetan medical students to train at FSPH for periods ranging from three months to a year. Funding for the training came from FSPH's Bixby Center on Population and Reproductive Health and the Tibetan Healing Fund, a nonprofit humanitarian organization Gyaltsen helped establish to improve primary care and education for rural Tibetan women and children.
The collaboration began after the Tibetan researchers had found that more than 90 percent of the rural women in Tibet's Qinghai Province were delivering at home rather than in a hospital for reasons that included transportation difficulties, lack of accommodations in the hospitals for accompanying families, the cost of hospital delivery, a shortage of trained community birth attendants, and language and cultural barriers. "This meant that in cases where women needed assistance with delivery, they weren't getting it in a timely fashion," Dr. Gipson notes.
Based on those findings, Dr. Gyaltsen and his Tibetan research colleagues worked with local health authorities to implement a three-level intervention. At the county level, they launched the Tibetan Birth and Training Center (TBTC), where women who wouldn't normally deliver in a hospital could easily access highly skilled and culturally relevant care. At the community level, they established a midwife-training program to meet the needs of women who chose to deliver at home. And at the individual level, the birth center prepared midwives, health workers and village residents to serve as peer educators on maternal and child health in their communities.