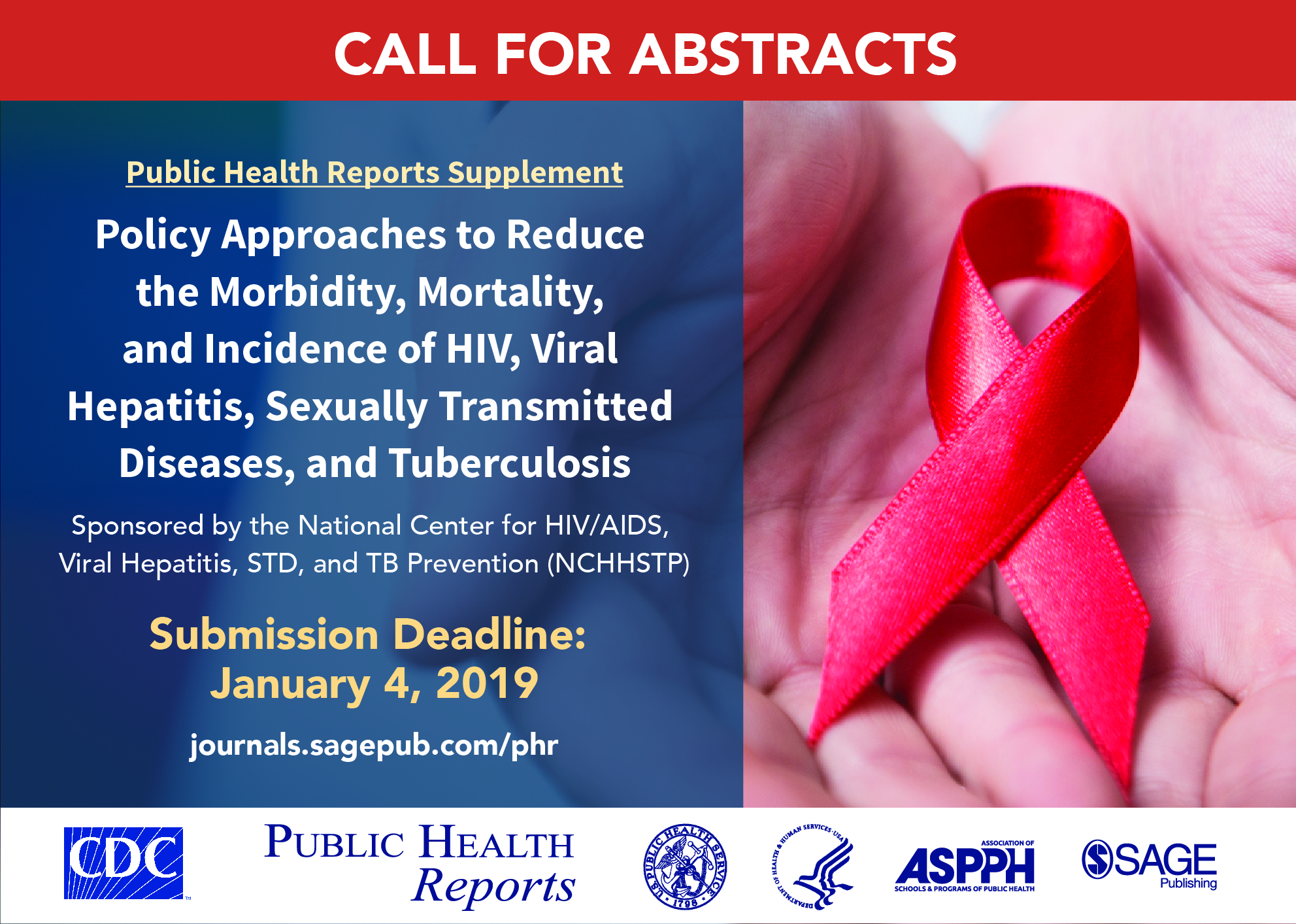 Public Health Reports (PHR), a peer-reviewed journal of public health research and practice and the official journal of the Office of the Surgeon General and U.S. Public Health Service, is inviting submissions for a supplement on policy approaches to reduce the morbidity, mortality, and incidence of HIV, viral hepatitis, sexually transmitted diseases (STDs), and tuberculosis (TB) (collectively referred to as "diseases of interest" for purposes of this supplement) in the United States. This supplement is intended to present timely articles on policy interventions or strategies that have affected burden, outcomes, or disparities for the diseases of interest, whether or not such impacts were the express intent of the policy action.
The guest editors for this supplement are Dr. Deron C. Burton, associate director for Health Equity, National Center for HIV/AIDS, Viral Hepatitis, STD, and TB Prevention (NCHHSTP), Centers for Disease Control and Prevention (CDC); Dr. Hazel D. Dean, deputy director, NCHHSTP, CDC; and Dr. Jonathan Mermin, director, NCHHSTP, CDC.
The guest editors request that all authors interested in submitting a full manuscript to the supplement first send an abstract for initial review and comment. Abstracts should be submitted to Ms. Brandi Baker as soon as possible but no later than midnight of January 4, 2019. The guest editors will review all abstracts and then contact the authors about the suitability of a full manuscript submission. Submitted abstracts and final manuscripts should follow PHR's Instructions for Contributors appropriate for the desired manuscript type, should be written in accordance with the AMA Manual of Style (10th ed.) and the Federal Plain Language Guidelines, and be no longer than 250 words (abstracts). No tables, figures, or references should be included in the abstract.
The following types of articles are acceptable: original research, public health evaluation, public health methodology, case study, brief report, reports and recommendations, topical review, and commentary. For more details about specific article types and corresponding review criteria, see PHR's Instructions to Contributors.
After full manuscripts are invited and submitted, they will be assessed initially and directed for external peer review by the supplement's guest editors and the PHR editor-in-chief. The submission deadline for full manuscripts is April 15, 2019. Manuscripts should be submitted through PHR's electronic submission system.
PHR is published through an agreement with the Association of Schools of Public Health. It is the oldest journal of public health in the United States and has been published since 1878. The journal is widely distributed internationally and is indexed by MEDLINE/Index Medicus, Current Contents, EMBASE/Excerpta Medica, Pais International, and LexisNexis. More information about the journal is available at the Public Health Reports website.
Questions about this call for papers should be addressed to Ms. Brandi Baker. Questions about PHR should be addressed to the journal's managing editor, Dr. Andrey Kuzmichev.