New research from the University of Kentucky College of Public Health indicates that social networks – especially family ties – are an effective tool for recruiting and retaining rural drug users in harm reduction interventions and programs. Investigators analyzed methods of reaching drug users in Appalachia, a region that has been hit hard by the opioid epidemic. Dr. April M. Young, assistant professor of epidemiology, is lead author of the new publication "Network-Based Research on Rural Opioid Use: an Overview of Methods and Lessons Learned," appearing in Current HIV/AIDS Reports. The collaborative research involved co-authors Dr. Abby Rudolph of the Boston University School of Public Health, and Dr. Jennifer Havens of the University of Kentucky Center on Drug and Alcohol Research, where Dr. Young holds a joint appointment.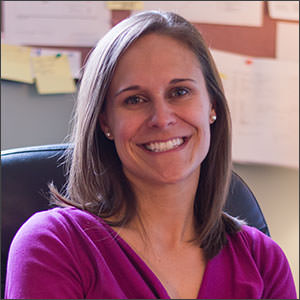 [Photo: Dr. April M. Young]
The paper provides an overview of methods used for recruitment, network data collection, and network data management in a network-based study of rural people who use drugs and to offer methodological recommendations for future research on rural drug use.
The Social Networks among Appalachian People (SNAP) study recruited a cohort of 503 rural people who use drugs via respondent-driven sampling (RDS) and has retained more than 80 percent of eligible participants over 7 – 9 years. SNAP has yielded important methodological insights, including that (1) RDS referral was non-random and disproportionately involved kin and (2) interviewer-administered questionnaires were successful in eliciting accurate name and age information about network members.
The SNAP experience suggests that RDS was a successful recruitment strategy for rural people who use drugs, and questionnaires administered by community-based interviewers in the context of a Certificate of Confidentiality could elicit detailed data on drug use risk networks.