Dr. Elizabeth Hunter, assistant professor of gerontology, University of Kentucky College of Public Health, is an author of a new publication in the American Journal of Occupational Therapy. "Occupational Therapy Interventions for Adults with Cancer" draws upon a systematic review of previous articles on occupational therapy with adults with cancer, of which Dr. Hunter was also an author, alongside colleagues from other institutions. The present article appears as part of the "Evidence Connection" series of case studies.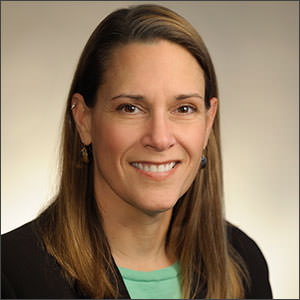 [Photo: Dr. Elizabeth Hunter]
The case study demonstrates how through the use of evidence-based, occupation-focused, and client-centered occupational therapy interventions, a 38-year-old patient with non-Hodgkin's lymphoma who had undergone an allogenic stem cell transplant (SCT) met his goals by the end of his three-month outpatient treatment and follow-up for his SCT. He reported levels of performance and satisfaction that were improved from his initial visit. Although fatigue and pain continued to present challenges, the patient reported feeling highly confident in the use of the strategies he learned in therapy to proactively manage these symptoms. He was participating in most of his primary occupational roles and making plans to return to work. He also felt more confident about his self-image and body image and reported lower levels of stress and anxiety and improved quality of life.
The occupational therapist's discharge recommendations included continued use of all strategies, including the home exercise and stretching program. She referred the patient to a work rehabilitation program and for additional outpatient occupational therapy if he encountered any symptoms of lymphedema or graft-versus-host-disease.
Occupational therapy practitioners have the education, skills, and knowledge to provide occupational therapy interventions for adults with cancer. Because of the increasing number of cancer survivors, there has been a more intense focus on evidence-based rehabilitation for people of all ages who have cancer and undergo treatment.