Dr. James W. Holsinger, Jr., chancellor and professor emeritus at the University of Kentucky College of Public Health, co-authored the publication "Leadership for Public Health 3.0: A Preliminary Assessment of Competencies for Local Health Department Leaders," along with colleagues from Ferris State University. The article, appears in the October issue of Frontiers in Public Health.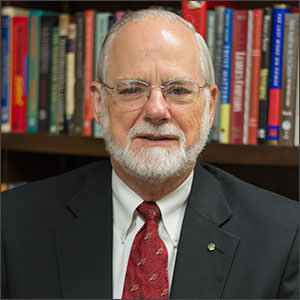 [Photo: Dr. James W. Holsinger, Jr.]
The foundational public health services model V1.0, developed in response to the Institute of Medicine report For the Public's Health: Investing in a Healthier Future identified important capabilities for leading local health departments (LHDs). The recommended capabilities include the organizational competencies of leadership and governance, which are described as consensus building among internal and external stakeholders.
Leadership through consensus building is the main characteristic of Democratic Leadership. This style of leadership works best within the context of a competent team. Not much is known about the competency structure of LHD leadership teams.
The objectives of this study characterize the competency structure of leadership teams in LHDs and identify the relevance of existing competencies for the practice of leadership in public health.
The investigation used a cross-sectional study design. Utilizing the workforce taxonomy six management and leadership occupation titles were used as job categories. The competencies were selected from the leadership and management domain of public health competencies for the Tier -3, leadership level. Study participants were asked to rank on a Likert scale of 1 – 10 the relevance of each competency to their current job category, with a rank of 1 being least important and a rank of 10 being most important. The instrument was administered in person.
Data were collected in 2016 from 50 public health professionals serving in leadership and management positions in a convenience sample of three LHDS.
The competency of most relevance to the highest executive function category was that of "interaction with interrelated systems." For sub-agency level officers the competency of most relevance was "advocating for the role of public health." The competency of most relevance to program directors/managers or administrators was "ensuring continuous quality improvement." The variation between competencies by job category suggests there are distinct underlying relationships between the competencies by job category.