Are peer recovery programs useful in connecting  people to overdose prevention services? This is a question that researchers from the Brown University School of Public Health sought to answer. Led by Ms. Katherine Waye, who just finished her MPH at the School of Public Health last year, and mentored by Dr. Brandon Marshall in the department of epidemiology, they analysed the impact of two peer recovery programs operating in Rhode Island, both based out of the Anchor Recovery Community Center; AnchorED – which deploys Peer Recovery Specialists to emergency departments and AnchorMORE, which sends specialists to communities that have high rates of overdose. They found that among 1329 contacts AnchorED had in the emergency room, a majority of contacts received naloxone training and agreed to continued outreach from a Peer Recovery Specialist; connecting them to additional overdose prevention services.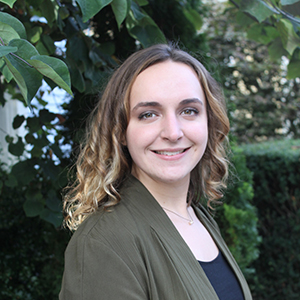 Photo: Ms. Katherine Waye
Peer recovery services are provided by specialists who have had past experience with addiction and recovery. They provide non-clinical experience based support to people with opioid use disorder who want assistance. This strategy has been used in the past to promote other health behaviours, such as increasing HIV and hepatitis C virus prevention and treatment adherence as well as decreasing syringe-sharing practices among people who use drugs.
In Rhode Island, these Peer Recovery Specialists are people who have received 500 hours of training and have been in recovery for the past two years. The AnchorED program places 11 peer recovery specialists in Rhode Island's 10 emergency departments. When an overdose or other substance abuse issue is suspected, hospital staff (after obtaining consent) can request a Peer Recovery Specialist. The recovery specialists will typically work with  the patients for 20 or 30 minutes in the emergency room and educate them on overdose prevention and on the use of naloxone.
Data from July 2016-June 2017 was analysed in the form of questionnaires distributed by the AnchorED and AnchorMORE programs.  During this time, Peer Recovery Specialists made 1329 contacts with people in emergency rooms who were there for a suspected overdose or other substance use disorder. Among these contacts, 89 percent received training on how to use naloxone, 87 percent agreed to continue seeing a peer recovery contact and 51 percent were referred to other services, like medicated assisted treatment. At the Anchor Recovery Community Center, 44 percent of people who sought peer recovery services at the center were referred by an AnchorED contact. Specialists in the AnchorMORE program had 8614 street based interactions and mostly referred people to services for essential needs, referring them to food pantries, emergency shelter and transportation services. The second most common referral (615) was outpatient services like medicated assisted therapy and 12 step programs among others.